Demand for Biodegradable Products Market Size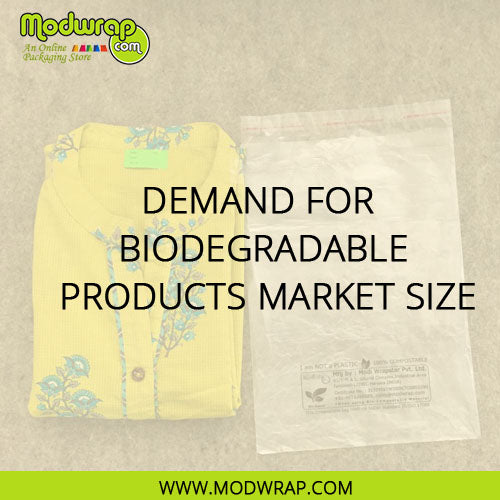 In 2021, it was predicted that the global market for biodegradable plastic would be worth USD 4.1 billion. During the forecast period, it is anticipated to grow at a compound annual growth rate (CAGR) of 9.7%. One of the main trends driving the market growth is governments banning the use of single-use plastic along with rising public awareness of the negative effects of plastic waste.
Additionally, it is anticipated that the growing use of biodegradable plastics in packaging and agriculture will support the segment's growth. Plastics that don't break down are a worldwide problem. In order to combat this issue, governments all over the world are encouraging the use of biodegradable plastics and outlawing single-use plastics. Due to their eco-friendliness, consumers are also willing to pay more for biodegradable plastics.
Main Hurdles in the Scaling of the Biodegradable Products Market
Despite their benefits for the environment, biodegradable plastics also have some drawbacks. Since there is little distinction between conventional plastics and biodegradable plastic, segregating them is a major drawback. The decomposition process may be complicated if conventional plastic is disposed of with biodegradable plastic.
Usage of Biodegradable Products
With a revenue share of more than 60.0%, packaging was the biodegradable plastics market's largest application segment in 2021. One of the most popular industries using biodegradable plastics is the packaging. Both rigid and flexible packaging use it. The market for biodegradable plastics is expanding as more and more conventional plastics are being replaced in food packaging materials like boxes, wraps, cups, and plates.
A sizeable portion of the market was also held by the agriculture industry. The use of biodegradable mulch film ensures soil water conservation, the control of weed growth, and the maintenance of a favorable soil temperature to promote quicker crop development. A growing trend in developed economies is the use of biodegradable plastics in consumer goods.
Market Insights
With a revenue share of more than 43.0%, Europe was the largest regional market for biodegradable plastics in 2021. The European Union's ban on single-use plastics and the general high awareness of plastic waste are expected to drive the regional market during the forecast period. On the other hand, Asia Pacific is anticipated to become the region with the fastest rate of growth worldwide. The region's market is expected to grow as a result of rising disposable income and rising living standards in developing nations like China and India.